As energy prices continue to rise, many homeowners are feeling the pinch this winter. This year it makes sense to swap an old, fuel-guzzling fire for an efficient, cost-effective inset stove. An open fire may sound appealing, but they actually lose 80% of their heat up the chimney. That's a huge waste and means literally throwing money away. Eurostove inset stoves however are 80% efficient - perfect for the current fuel poverty crisis. Saving money is more important than ever right now, as is heating the home in preparation for the cold winter months ahead. Mendip Stoves inset stoves give you the option to enjoy a wood-burning stove with seamless and sleek installation, the Christon range are designed to complement contemporary and classic interiors.
As well as being efficient and cost-effective, Mendip Stoves inset stoves also comply with the new Ecodesign legislation and are DEFRA approved. The Government's Clean Air Strategy, which came into effect on 1 January 2022, promotes the use of clean-burning solid fuels, appliances and operation techniques to reduce the impact of solid fuel appliance use on the UK's air quality. These Ecodesign stoves meet all the new requirements. They also pass the required standards for woodburning in smoke-controlled areas, so they can be installed in any home in any location.
Christon 400
The Christon 400 fits into a standard British fireplace easily. Simply remove the fireback and the stove can be installed quickly and easily with minimal effort and minimal fuss. While it may be minimal in terms of fitting, they all offer maximum benefit in heating and cost control. This small but mighty Christon 400 multi fuel 4.3kW inset stove has a high-efficiency chamber and external air capability, enabling it to be installed in both new-build and refurbishment projects alike. It has the option of a three or four-sided frame to suit the installation required.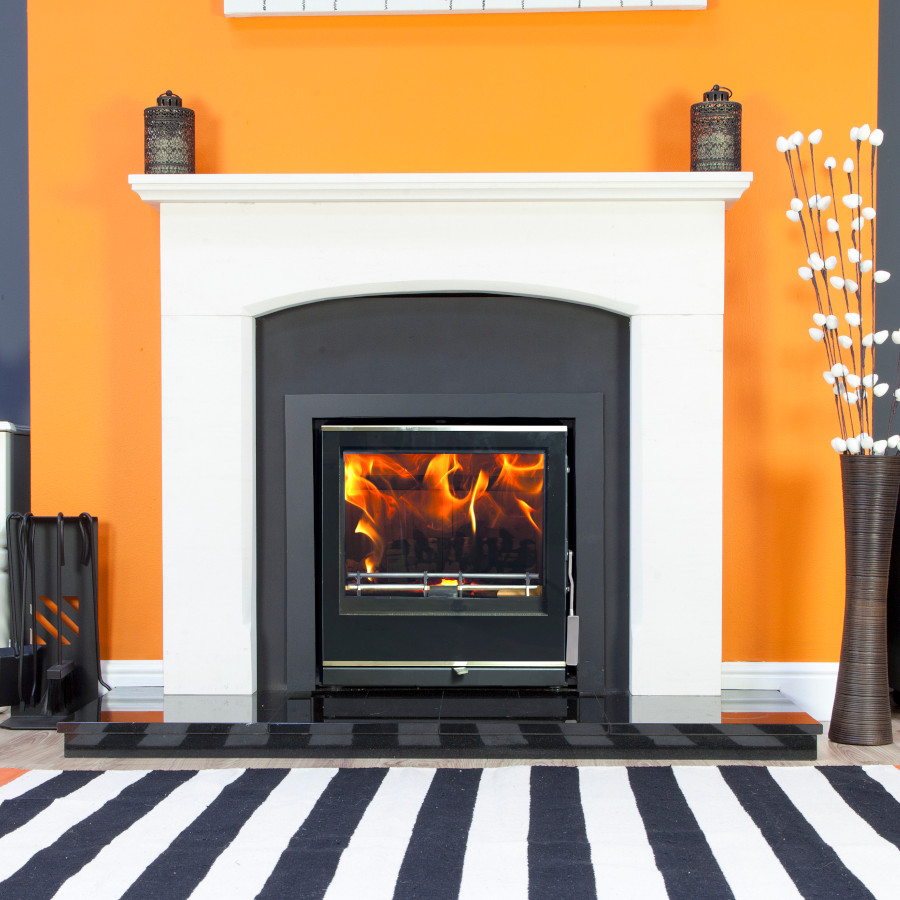 Christon 550
The Christon 550 is a square stove with 4.8kW heat output and your choice of a three or four-sided frame. The inset model can be installed at ground level on a hearth or set higher into the wall for a contemporary finish. It comes with a generous sized viewing window and airwash system to keep the glass clean. The closed combustion, with 100mm to combustibles, means it can be installed in tight spaces such as a cosy inglenook fireplace. So it's as practical as it is good looking.
Christon 750
With a thoroughly modern exterior, the Christon 750 inset stove from Mendip is ideal for modern living with its complete glass door design and sleek, contemporary look. The generously sized insulating chamber is big enough for 60cm logs. At the same time, the steel construction of the box within a box design provides excellent airflow, enabling convection heat to be distributed evenly and effectively within the room.